- news from 2022
- news from 2021
- news from 2020
- news from 2019
- news from 2018
- news from 2017

News from 2016:
22.10
On Oct 15-16 we organized Estonian Championships in IPO-FH in collaboration with Estonian Kennel Union. The judge was Vesa Kuosmanen from Finland. At the championships many dogs showed nice level of tracking although the fields were not the easiest and the tension was in the air until last performances. For Anu and Hundu the cross-track was too hard to solve on first day and despite working for a long time at that area, Hundu still was not sure wheather to cross or follow it. they still kept fighting and managed to reach the end of the second day's track, points 78. Aivo and Tüüp showed really high level tracking on both days (although had some issues with articles) so all in all first place and Estonian Champions 2016! Points were 183 (94/89). Congratulations, super job! All results can be seen on competitions webpage.


19.10
On Oct 8 we organized IPO ja FPr (IPO A part) trials, judged by Mari Oblikas, IPO helper was Aivo Oblikas. Although the weather was really windy, all dogs achieved result from the field and also dogs that started later on at the B and C parts showde nice work. The results were following:

IPO-1: Ratsumestarin Vox & Kairi Viherpuu 265p (92/91/82 TSB A)
IPO-2: Rayntes Kaito & Tõnis Oissar 269p (94/82/93 TSB A)

A-1: Cattlepark's Hellcat & Karin Lassmann 81p
A-2: Toberoi Etna & Leelet Kivioja 86p
A-3: Komentajan Aniline & Birgit Piho 83p

Congratulations to everyone, nice results to finish the season!
10.09
On October 15-16 we are organizing IPO-FH Estonian Championships in cooperation with Estonian Kennel Union. This is also Estonian qualification trial for FCI IPO-FH World Championships. The home page of the event can be found HERE. Welcome to participate and watch!
12.08
July 29-31 Aivo spent in Finland again, this time he was asked to hold a tracking seminar by Keski-Suomen Palveluskoirayhdistys ry. Three days filled with different interesting dogs and open minded handlers. It was a really nice weekend, thanks to all organizers and participants!


01.08
Successful Estonian IPO Championships are now behind us. Judged strictly but fairly by Igor Lengvarsky from Slovakia, helpers were Tõnu Mägi and Janar Klement. There were 3 competitors from our club. Andrei and Troll were unfortunately disqualified from obedience part, but the other two made nice results, both had this time some mistakes in obedience that cost many points:

3rd place Taivo Maar & Ruutipussi Nuutti 249p (86/76/87 TSB A)
4th place Aivo Oblikas & Daneskjold Hawk 249p (89/74/86 TSB A) - first time IPO-3!

Galleries from the championships are visible under PHOTOS! Videos of Hawk's and Nuutti's C parts are visible at their pages (OUR CLUB link)


22.07
Sportkoer's traditional training camp has been held once again. There were lots of nice people, good dogs and certainly tons of dog training! This time the participants came from 6 different countries and we spent enjoyable weekend in picturesque nature of Võrumaa, Kütioru. Thanks to all participants for nice company and especially to Johanna and Mikko for many great ideas and pointers! Gallery of the training camp can be found under Photos' link!


16.07
On July 1-3rd we had another trip to Finland, this time Aivo was judge at a very cool and one of a kind IPO competition Who Bites the Best, where teams consisting of dogs from different breeds compete against each other. This year there was also an international competetition at IPO-3 level (CACIT). The competition was organized very proffessionally and Aivo was judging part A. The home page of the competition can be found here and pictures made by Mari can be seen under PHOTOS.


16.06
On June 12th we organized IPO and IPO AB trial. Judge was Marika Mikk and helpers Janar Klement (IPO-2, IPO-3) and Aivo Oblikas (IPO-1). We had 3 teams participating in the trial and all ended up with great results:

IPO-1: Tõnis Oissar and Rayntes Kaito 270p (96/86/88 TSB A)
IPO-2: Aivo Oblikas and Daneskjold Hawk 283p (96/90/97 TSB A)
IPO-3: Taivo Maar and Ruutipussi Nuutti 272p (97/90/85 TSB A)

We are especially proud of the fact that all the participants got "very good". Congratulations!!!

Photos from the trials are HERE.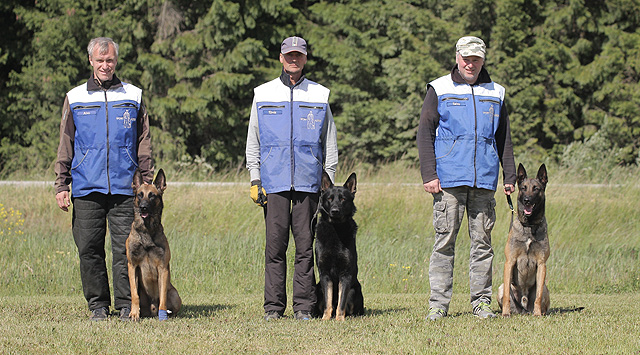 01.06
28-29.05 Aivo went to Finland to make a tracking seminar. It was a pleasure to see friends and to get to know new people and dogs. The open attitude that the participants had thowards new things made it possible to get the most out of the seminar.


30.05
On May 14-15 there was ESLÜ's IPO competition, judged by Elmar Mannes (Germany), helpers were Rene Radala and Janar Klement. From our club there were Andrei Hramtsov and Cäsar vom Römerwall competing at IPO-2 level. They achieved first place with 275 points (92/90/93 TSB A). They were the only team to achieve "very good" at protection during this competition. Congratulations, great job!

All results from this competition can be found HERE.

Photos from this competition are in 3 galleries: Helve, Liis, Tatjana
20.04
7-10.04.2016 FCI IPO-FH World Championships were held in Ukraine. It was a pleasure that 2 sportsmen from our club qualified to this event - Aarne with Sannu and Aivo with Tüüp (as reserve). The spring was very cold and snowy in Estonia and that made the preparation for Wm quite difficult. Everyone did their best though. Aivo was also team leader for Estonia and had a lucky draw at competition site that allowed him also to start at WM with Tüüp. At quite demanding conditions Aivo & Tüüp got 82 points from first track, but on the second track Tüüp chose to follow the cross-track instead. Considering the fact that Tüüp turned 3 years during the trip to WM and had thus much less experience than most other dogs, we are still happy with this experience. Aarne and Greta achieved nice results from both tracks which meant also high 5th place among teams for Estonia! More information can be found at Estonian team's FB page.


15.02
The best sportdogs have received their awards from season of 2015.

Estonian Kennel Union's awarded best sportdogs and handlers of 2015 and our members were really rocking the tracking category:

2. place Aarne Väli ja Tulikuuma Sähkövirta
3. place Aivo Oblikas ja Daneskjold Hawk
4. place Estrellest Hurmuri Hundiin ja Anu Oks (unfortunately missing from the photo)




Estonian Association of German Shepherds's also gave awards for best dogs and handlers of 2015:

Category: Best tracking dog
4. place Estrellest Hurmuri Hundiin and Anu Oks

Category: Best universal dog
4.-6. place Margman Wildfire Wanda and Monika Rusing

Congratulations to everyone and all the best for next season!!
- news from 2015
- news from 2014
- news from 2013
- news from 2012
- news from 2011